Welcome to Lucas and Louisa's
The Colt Barn
Townshend, Vermont
The
Space
Experience the farm life from the light-filled and newly renovated Colt Barn in Townshend, Vermont. A two-bedroom, cozy retreat located on the property of Big Picture Farm, a small hillside goat dairy and farmstead confectionery and creamery owned and operated by hosts, Louisa Conrad and Lucas Farrell.

Each bedroom features a luxurious king-sized bed; crisp, white Matouk linens; and down pillows and comforters -- guaranteed to give you that deep sleep you have been craving. If you have to work in between exploring the beautiful grounds, the upstairs offers the perfect work-from-home setup with a comfortable office chair and desk and tons of natural light.
Downstairs there are plenty of options for spreading out and lounging from the two spacious living rooms to the open kitchen and dining area -- all tastefully decorated with bright, colorful artwork featuring the farm's very own animals.

Take a scenic walk through the surrounding flower and vegetable gardens; hang out with the fifty or so goats, chickens, pigs, cats, and delightful dogs, Elvis and Josie, that roam about the property; and get a glimpse into daily life on a working farm from this one-of-a-kind space. And, don't forget to try Louisa and Lucas' award-winning goat-milk caramels, sold everywhere from Amazon to Anthropologie!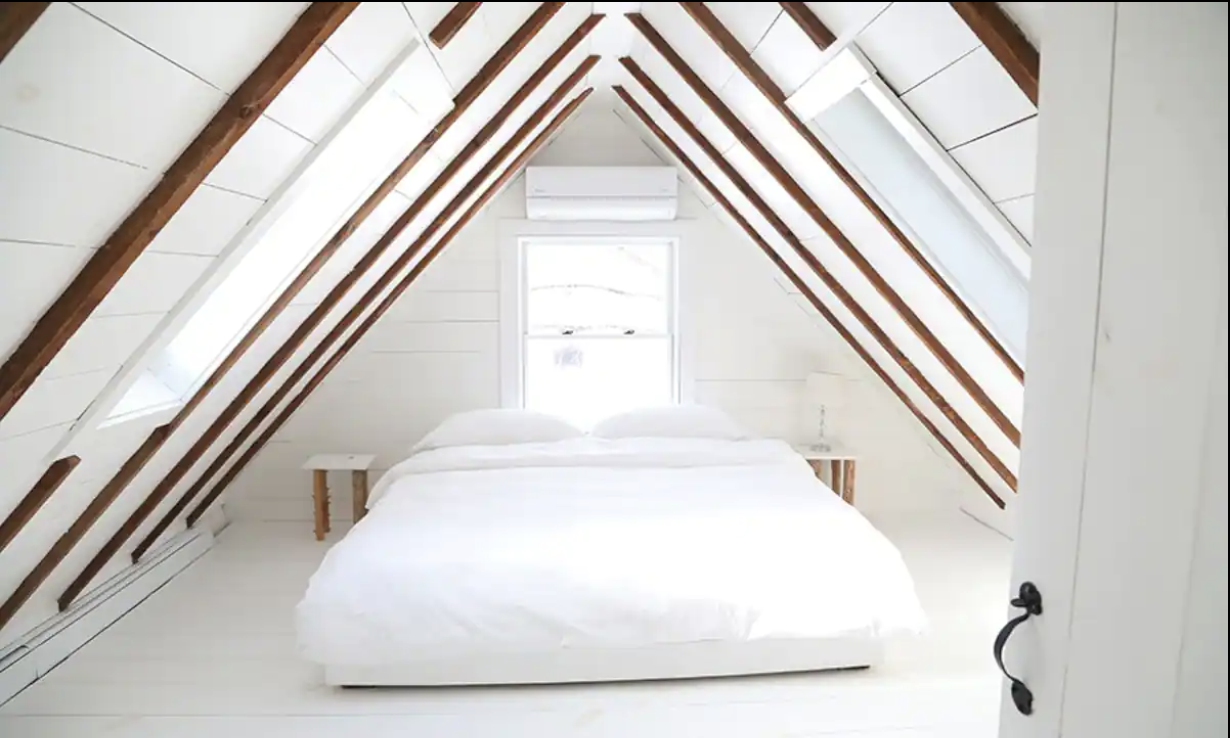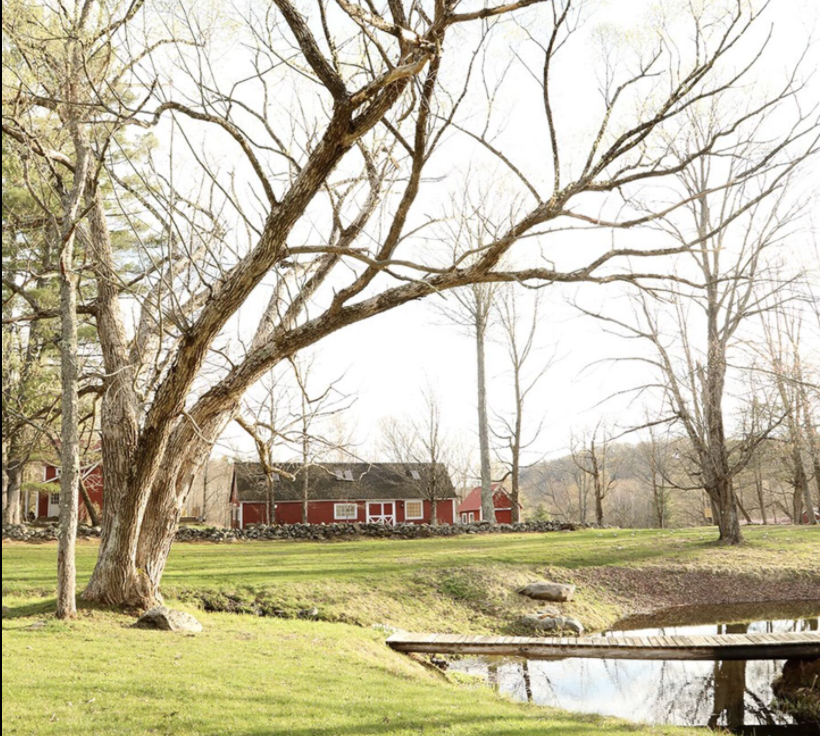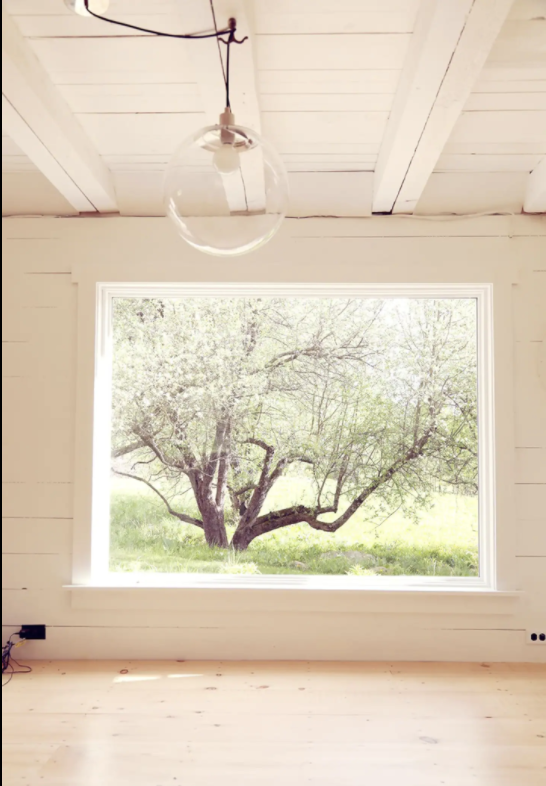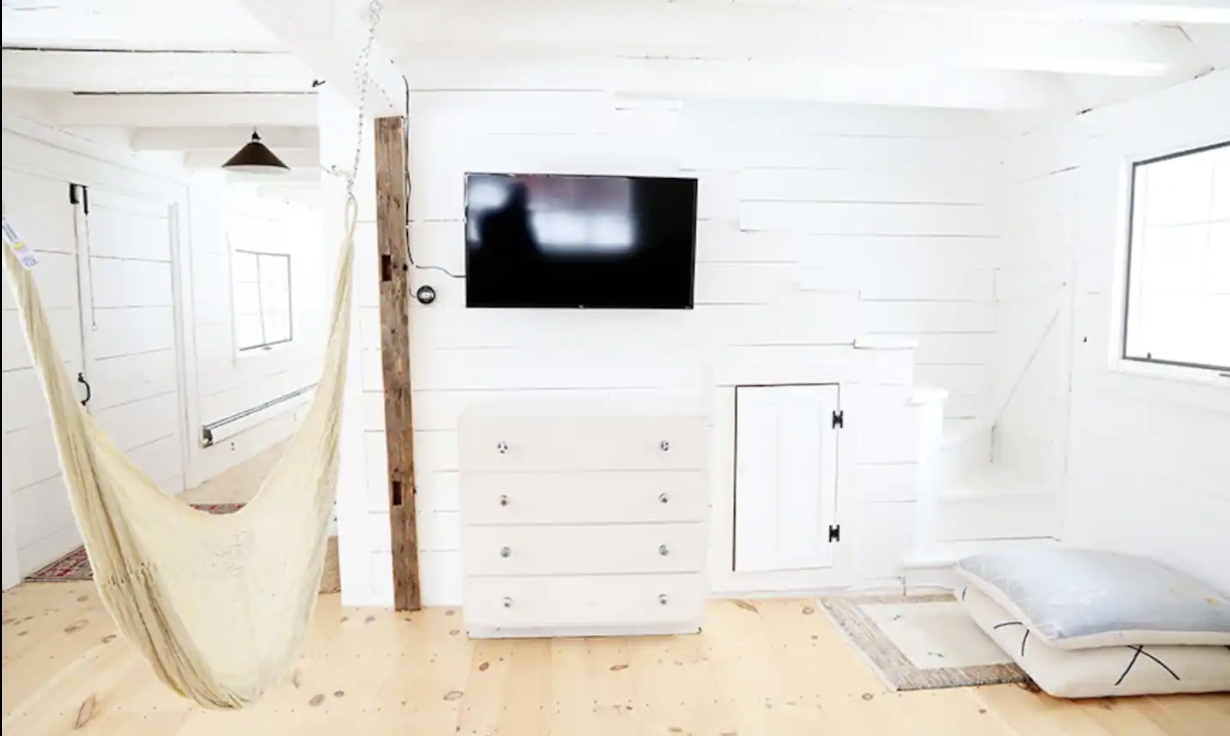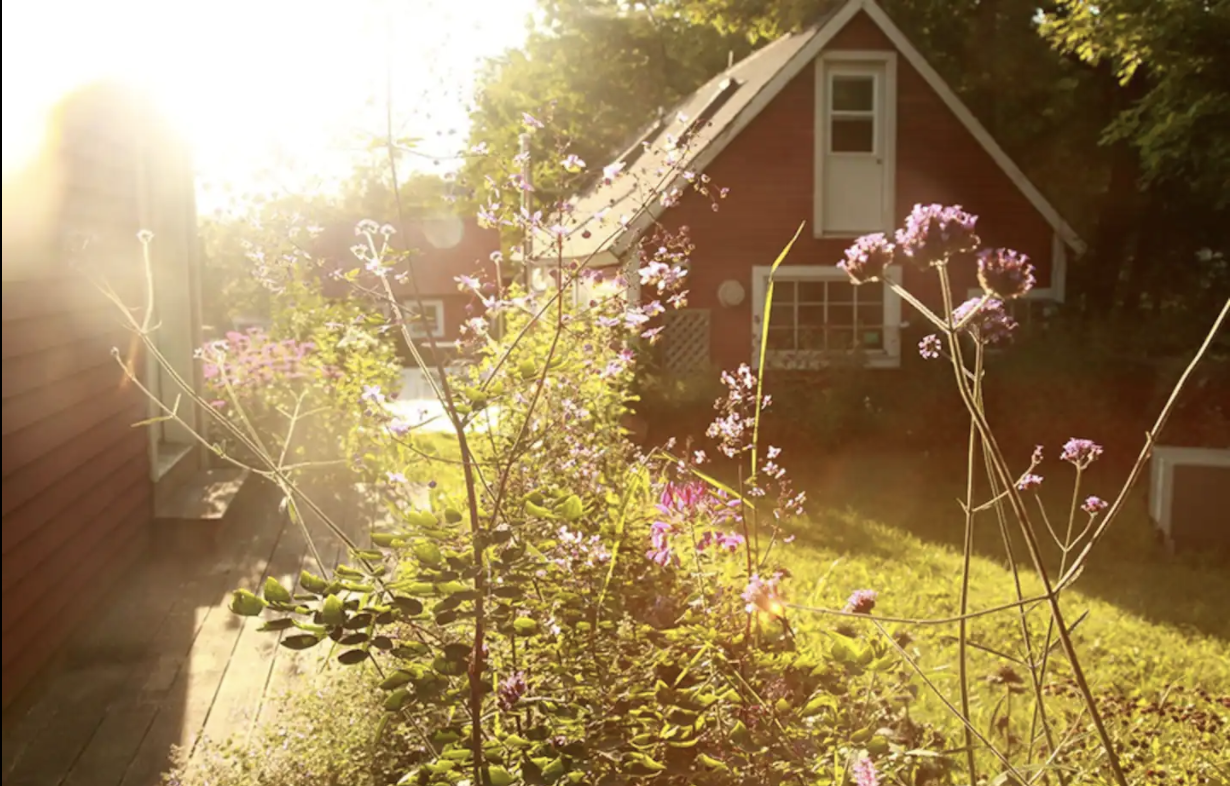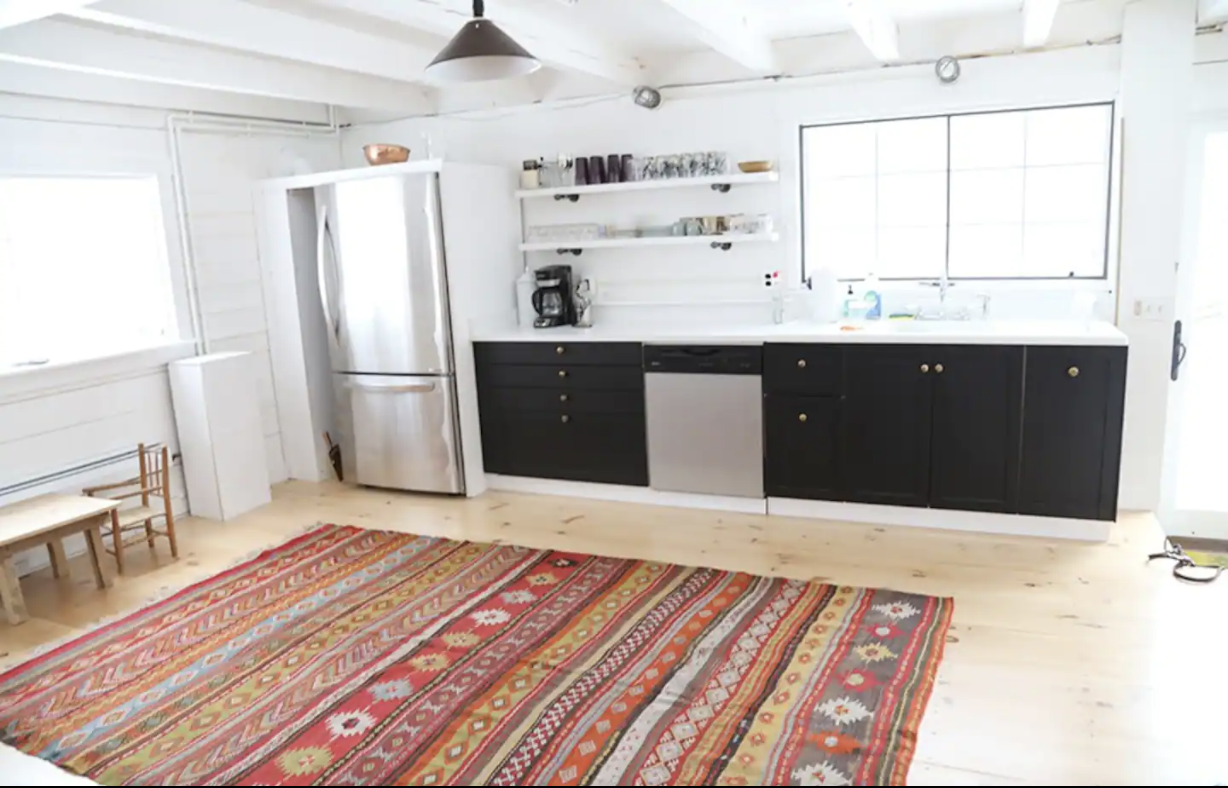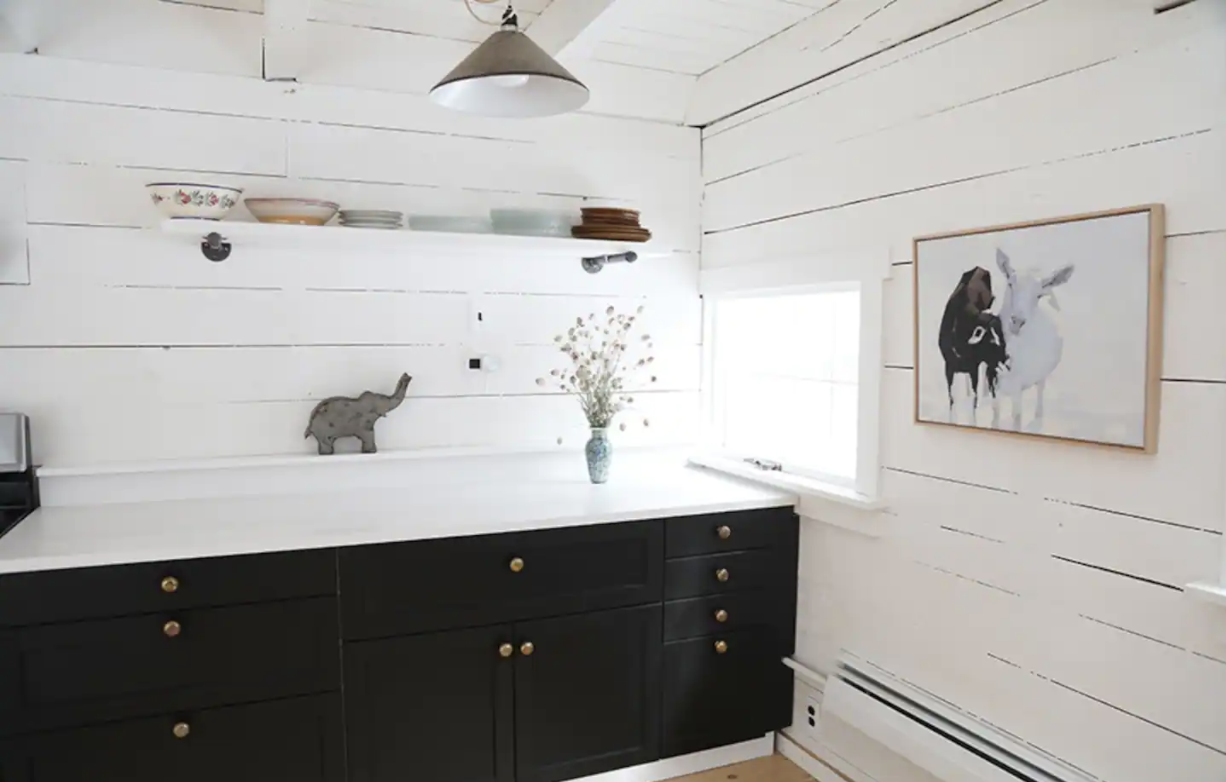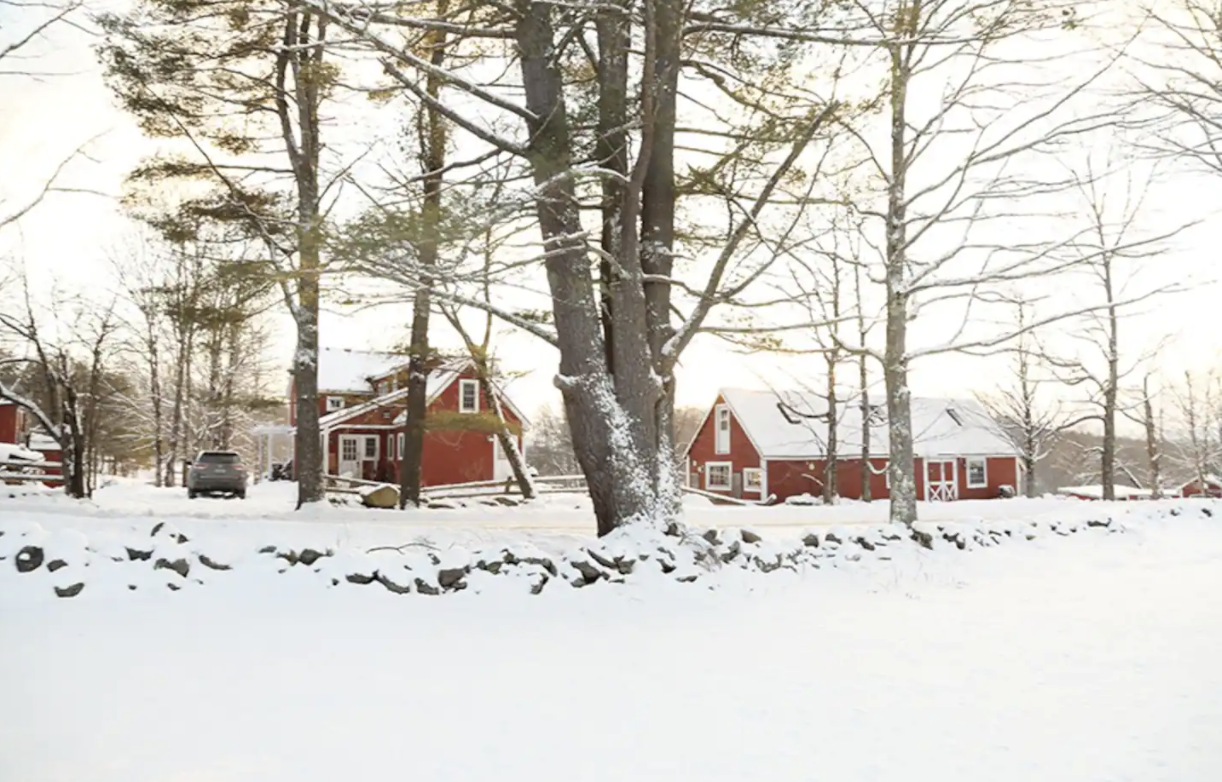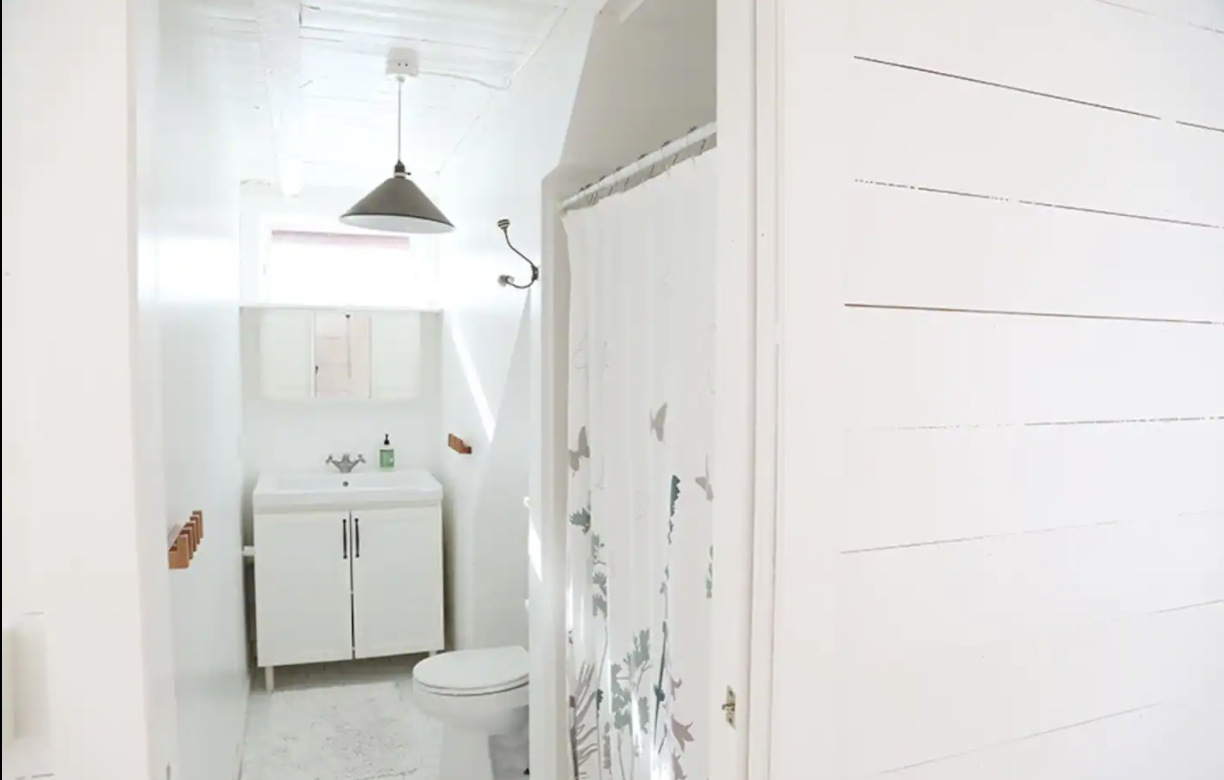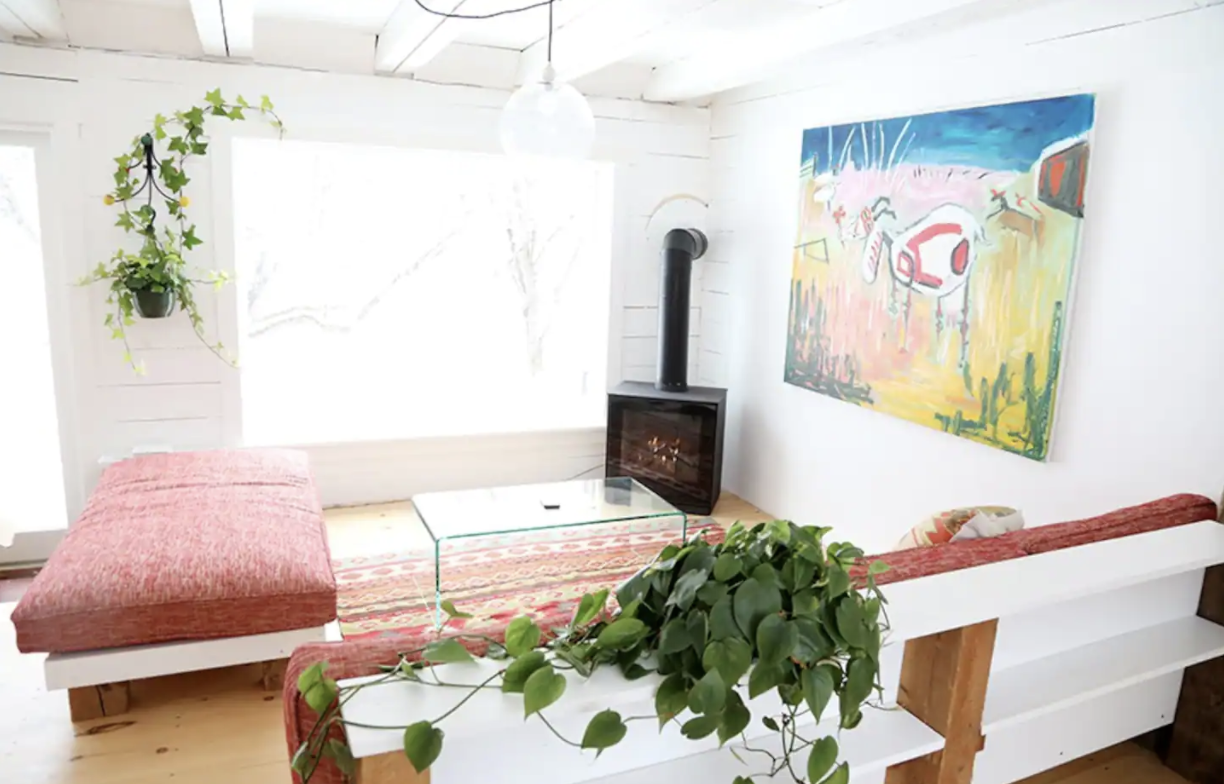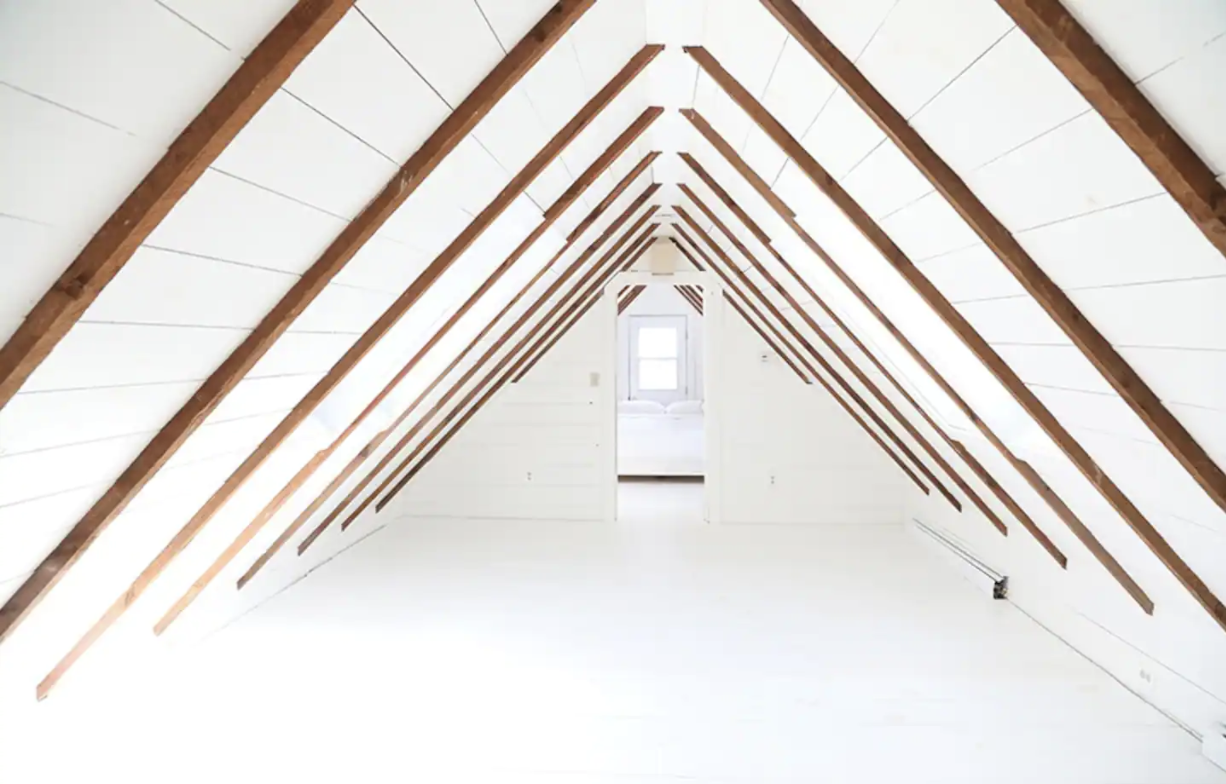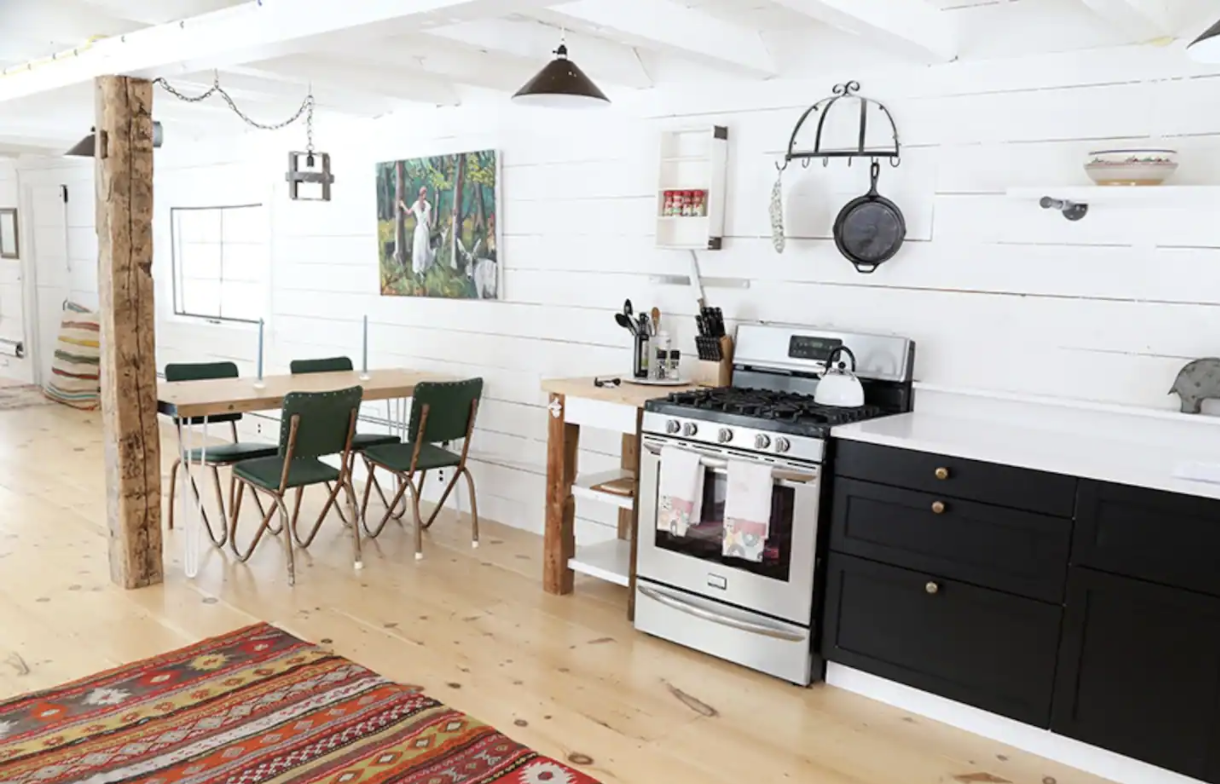 The
Amenities
Dive into the luxurious king-sized beds for a good night's sleep. Enjoy breakfast complete with farm fresh eggs from the deck, while watching the goats being brought out to pasture. Or, cozy up on the couch by the electric fireplace and take in the views of the flower and vegetable gardens from the huge window in the living room.
2 Bedrooms
1 Bathroom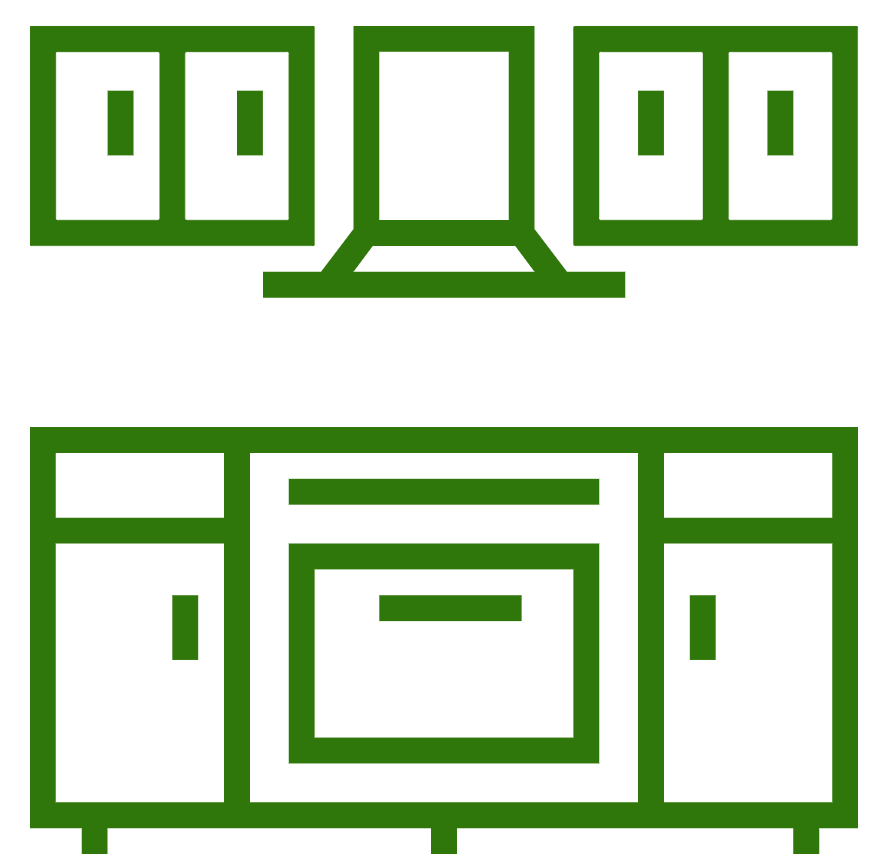 Fully-Stocked Kitchen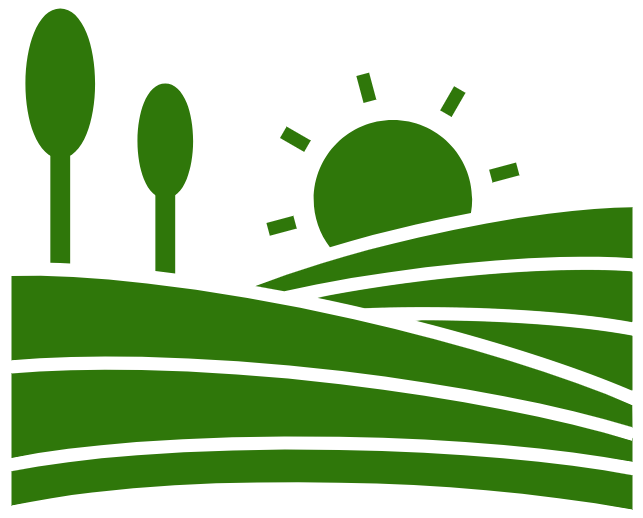 Gorgeous Grounds Wifi
Indoor Fireplace Patio
Dedicated Workspace

TV
Coffee Pot Free Parking
Goat Hangouts
The
Host
Meet Lucas and Louisa. After leaving their careers in academia in 2010, Louisa Conrad and her husband, Lucas Farrell, set off to found Big Picture Farm, a farmstead goat dairy and confectionery located in southern Vermont and known for its decadent and award-winning, goat milk caramels. Their mission? To help their customers understand the rich context that surrounds the milk, cheese, and candies produced on the farm in hopes that they might better appreciate the "big picture."

With the opening of the Colt Barn and two other short-term rentals on the property, they hope to give folks an even better view into the how, what, and who behind farm life, their goat ladies, and the farm's products. Listen to the story behind how Louisa and Lucas built three bespoke residences that they now rent out on Airbnb to expand their mission and help underwrite the costs of their Animal-Welfare-Approved farm.

Explore the
Surroundings
The Colt Barn sits on the property of Big Picture Farm in Townshend, Vermont, a small town in the southern region of the state known for its rolling hills, antique shops, town green, and farmhouses.
With a number of hiking trails and nearby ski resorts to explore, this idyllic Vermont town is the perfect getaway for adventure-seekers and nature lovers alike looking to unwind and unplug. Stratton is a short 25-minute drive from the Colt Barn, and Mt. Snow, Okemo, Bromley & Magic Mountain are only a 30-45 minute drive.

If you're visiting in the summer or fall, be sure to check out one of the many farmer's markets and orchards nearby, such as the Townshend Farmer's Market or Green Mountain Orchards.
Local
Eateries
One of the leaders in the farm-to-table movement, Vermont treasures its agricultural heritage and working landscape — the state is full of foods that are raised, crafted, caught and foraged locally. Explore some of the best restaurants in and around Townshend during your stay at The Colt Barn.
Peter Havens
A longtime Brattleboro favorite helmed since 2012 by chef Zachary Corbin, this chic little bistro is known for impeccably presented cuisine that draws heavily on local sources.
Duo
A corner location in the historic Brooks House and huge, inviting windows make this stylish farm-to-table restaurant impossible to miss. The locally sourced fare changes with the season, but the menu always includes an innovative take on fritters and a winning pork dish.
Fat Crow
An excellent spot for wood fired pizza and satisfying entrees. Locally sourced vegetables and cheese make everything from the caramelized Brussels sprouts to the goat-cheese salad delicious.
Mistral's at Toll Gate
This classic French restaurant is tucked in a grotto on the climb to Bromley Mountain. The two dining rooms are perched over the Bromley Brook, and at night a small waterfall is magically illuminated—ask for a window table.
Follow their
Journey
Get a behind-the-scenes look at what day-to-day life at Big Picture Farm looks like, and stay up-to-date on the latest events and activities happening in and around the area, by following them @BigPictureFarm. For a candid look at The Colt Barn and other Big Picture Farm Stays, follow @BigPictureFarmStays.
Our stay at Big Picture Farm in the Colt Barn was nothing short of heavenly. With three generations of women and girls together for a trip, this was the perfect place where everyone felt at home. The quality of the finishes, the comfort of the beds, the cleanliness and the warmth of the design all impressed. The layout makes it easy for a group to feel comfortable and find cozy corners to relax. The kitchen is fully stocked with appliances, pots, pans and beautiful dishware to make cooking at home easy - the farm fresh eggs and delicious caramels were an extra treat! The farm is located in an idyllic setting in Vermont with much to explore and enjoy in the area…although truth be told, we rarely wanted to leave our new people and animal friends on the farm. The goats, kittens, chickens, family and team of BPF left a mark on our hearts. We hope for many more opportunities to visit this extremely special place. Don't miss a chance to reserve your spot at this one of a kind getaway!
Elizabeth
This place is straight out of a fairytale. My wife and I are digital nomads that travel to new Airbnbs every couple of weeks.
We stayed at Lucas and Louisa's place over Labor Day Weekend and it was perfect! This property is serene and offers the most quintessential of quintessential farm stays. Although the farm is quite remote, the chickens, goats, and beautiful dogs (Elvis and Josie) ensure you don't feel too alone :).
The place had everything we needed to cook breakfast, lunch, and dinner. Lucas and Louisa did a great job of stocking the space with all of the essentials without overcrowding the kitchen (something we REALLY appreciate). We were fortunate enough to get to meet and interact with the goats...and they were CHARACTERS! We left wondering whether or not we should permanently leave Washington DC (which is where we call home) and start our own little big-picture-esque farm (haha)! We can't recommend this place enough!
Zach
Our stay at the Colt Barn at Big Picture Farm was wonderful. It's a beautiful space in a lovely part of Vermont. Our visit coincided with goats giving birth to their kids. That was a great experience -- we got to hang out with friendly goats! The barn space itself is really beautiful; a lot of details went into the aesthetic (the kind of minimal and natural decor I wish I could maintain in my own home, but... life.)

Unfortunately given the timing of our stay (during COVID, sort of a shoulder-season and early in a week), there were fewer restaurant options and off-farm attractions. That said, we had brought or bought groceries and we did enjoy a few meals as takeout options. And there's also tons of natural parks to explore (but it happened to be a little rainy on and off during our visit). This detail wouldn't prevent us from returning and staying at the farm again.

Lastly, we traveled with our four-year old daughter and she loved it. We live in a more urban area and don't have that sort of rural exposure. We all had a blast exploring the farm and being in a beautiful natural surrounding.
John
Receive
Notifications
Interested in staying at this incredible place? Check availability here or follow this stay and request to be notified about last-minute cancellations, possible deals, and availability during specific dates by submitting your travel start and end dates.