Sign up to get the best deals and steals on Airbnb...
Every Wednesday evening, receive a carefully curated list of 150 of the best last-minute deals on Airbnb from Canada to the Caribbean and California to Maine.
🎉 Have you heard about The Showroom? Explore a special collection of top-rated short-term-rentals from across the country. Visit The Showroom.
Book Now, Stay Now.
Looking for an instant sponstayneous adventure? Explore the "Book Now, Stay Now" section of the newsletter to find the best last-minute deals in your region.
Book Now, Stay Later.
Or perhaps you're looking for a place you'll need down the road, but are ready to book now? Explore the "Book Now, Stay Later" section of the newsletter to find the best upcoming steals in your region.
Curated especially for...
Our Partners*
*And by partners, we mean aspirational partners...these are a few of the brands we'd welcome collaborations with. Is your start-up the next Away, Peloton, or Patagonia? Let's chat about partnerships over a virtual happy hour.
Nice to meet you
A little bit about us...
Hi! My name is Zach, and I like building things.
No, not cool things like entertainment centers or custom floating shelves — putting together IKEA furniture gives me anxiety.
I like building brands.
By day, I lead marketing, product dev, and brand strategy at DD Agency, Enrollify, Novus, and DD Studio.
Sponstayneous is the sandbox I get to play in after 5(ish)pm.
When COVID-19 hit, my wife and I decided to break out of our 750-square foot apartment in Washington, DC and beta test the digital nomad lifestyle by hopping around to new Airbnbs every 2-4 weeks. You can follow our personal journey at AirGnZ.
We've spent hours on Airbnb and have learned a thing or ten about how to discern the wheat from the chaff, when to book (and when not to), and how to find the best deals.
Our desire is to share some of our learnings with you through this platform! For now, we hope to do so through this carefully curated weekly newsletter. Enjoy!
Listen to our Podcast – Behind the Stays
After our first couple of Airbnbs, we found ourselves talking most nights about the character of the bungalow, apartment, or lake house we were staying in. Our hosts were all fantastic communicators, but there's only so much you can learn via the guest book and the occasional "check-in" texts.
We were hungry to learn more about the story behind the place. Was this their first home? What's up with the mural in the bathroom? Was the dining table custom made? Did they build the home from the ground up specifically to rent out on Airbnb?
And that's when the idea of hosting a podcast that featured the stories of the hosts behind the stays was born. Our goal is to use this space to bring you the stories behind your favorite Airbnbs and the hosts who've made them memorable.
Episode 12: How to Build a Modern Mountain Home That Stands Out on Airbnb
In just a moment, you'll meet Andrew and Bianca — founders of the Serenity Hill Group, a growing collection of luxury Airbnb escapes in the White ...
Episode 11: How They Built Bespoke Airbnbs to Help Fund Their Goat Dairy: The Story Behind Big Picture Farm
In just a moment you'll meet Louisa Conrad, Co-Founder of Big Picture Farm. Big Picture Farm is a Vermont farmstead goat dairy and ...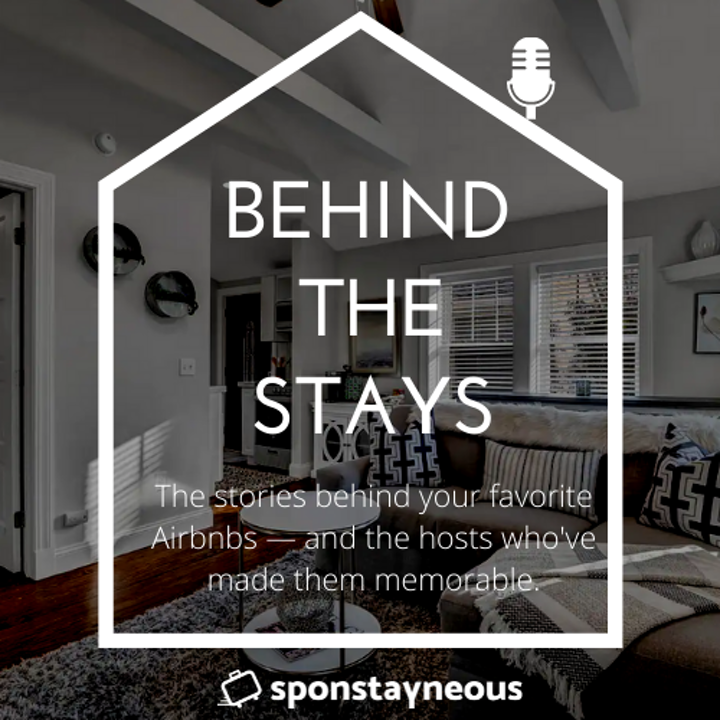 Episode 10: How to Transform a Backyard Shed into a Luxury Airbnb Cottage
In just a moment you'll meet Maris LeBlanc and JR Amantea, the creators of The Little House of Essex — a chic cottage near the Connecticut River ...
What we hope you'll all be saying soon...
Future Subscriber Testimonials
I booked an extended stay in the Shenandoah Valley for my family of five that I found via Sponstayneous. Virtual learning near the fire pit? I think yes.
Mama Monica
"Man-I-Need-A-Break" Mama
I found a sweet deal on a bungalow in the woods with faster Wi-Fi than my ethernet at home. Thanks Sponstayneous for finding me a stay that made frozen-free video calls possible and virtual backgrounds obsolete!
Single Sam
"Sick-Of-Studio-Life" Singles
I signed off from work at 5PM on Wednesday and scanned the last-minute deals featured in the Sponstayneous newsletter. By 7:47PM, I had booked a rustic chic loft in Austin. The very next day, my sister and I arrived to a welcome bottle of champs for her surprise belated bday weekend celebration! And she was none-the-wiser...
Last-Minute Leslie
"Last-Minute" Leisure-Seeker
Need some additional Help?
We will soon be launching an array of concierge services that will make booking your Sponstayneous adventure even easier. In the interim, we're offering select a-la-carte custom curation services.
Interested in beta testing these exclusive services? Reach out to our founders by completing the form below.
The 2021 travel agency is finally here, folks.